In summertime, we cannot give up on our sunscreen. This is THE product we must carry in our beach bag, our sports bag and even in our purse…and why not even in our box 😉 ?!
With so many debates around sunscreen, conventional or bio, we have managed to find a truly Clean brand! We have selected the ideal sunscreen for you :
– It doesn't leave white marks
– It is nanoparticle-free, paraben-free and it doesn't contain chemical filters
– It's made in France
– It's certified by Ecocert, labeled CosmeBio
– and the best is yet to come in this  article 🙂
In our summer box, Box Evidence presents to you the EQ Love sunscreen. Why? Because we want you to be protected from the sun, while respecting your skin and our planet!

sources:http://www.eq-love.com/
The history of EQ Love
EQ Love is a young brand, labeled by Ecocert and Cosmebio, born and based in Bidart since 2011.
Franck Bywalski, surfer, entrepreneur, globetrotter and visionary, is the one who imagined an innovative concept around well-being, with products conceived for surfers and for people who love our beautiful planet.
A concept, but there is more to it! We make a point of honor on their RES.PON.SIBLE ethics!
And yes, we tend to forget that in tropical areas between 16.000 – 25.000 tons of sunscreen are being used every year, and between 4.000 – 6.000 tons of sunscreen are being released on the coral reefs every year.
Some anti-UV filters from sunscreens activate viruses that multiply and kill the micro-algae located in the coral tissues. Unfortunately, this damage is irreversible: the corals go white and die in 48h.
EQ decided to act before it was too late and they created the first sunscreen assortment that is non eco-toxic to corals or to the marine environment. The brand is committed to selecting ingredients that are pure and beneficial for the skin, and also not harmful to the environment.
SPF15 Sunscreen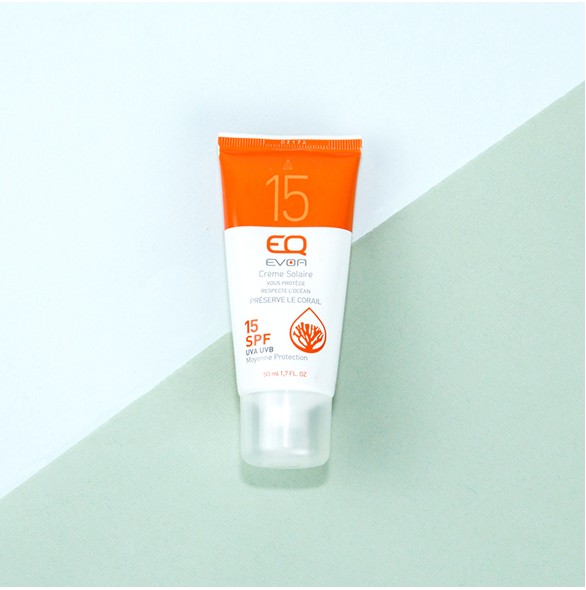 Issued from the EQ scientific research, the SPF15 MEDIUM PROTECTION Sunscreen was created under dermatological control, in order to ensure a good tolerance and solar protection against UVA and UVB rays.
BIO certified by the very demanding ECOCERT® organization, the SPF15 Sunscreen is perfect for normal conditions of sunshine; the skin will not be affected by sunburns or by intolerance to chemical filters.
It is comfortable and its light covering texture doesn't get in your eyes; it protects your skin against outdoor climate aggressions. It prevents tautness and it doesn't dry out your skin.
Its 5 active ingredients create a flawless cream, ideal for the whole family, which ensures an optimal BIO solar protection, while taking care of your skin.
BIO apricot kernel oil
Huile illuminatrice extraite des noyaux d'Abricot, riche en vitamine A, en acides oléique (ω9) et linoléique (ω6). Nourrissante et adoucissante, elle redonne un véritable coup d'éclat aux peaux les plus ternes, tout en apportant douceur et souplesse.
L'huile de Carthame BIO
Illuminating oil extracted from apricot kernels, rich in vitamin A, in oleic acid (ω9) and linoleic acid (ω6). It is nourishing and softening, it gives a true glow even to the dullest skin, as well as softness and flexibility.
BIO Safflower oil
Extracted from safflower seeds, it is rich in vitamin E, as well as in linoleic (ω6) and oleic (ω9) acids. Nourishing, lipid replenishing and restructuring, it contributes to the rehydration of the superior layers of the epidermis and it helps prevent the premature aging of the skin.
Beeswax
Creating a protective layer, beeswax is known for its barrier effect in protecting the skin against outdoor aggressions such as cold.
Rosy nacres, of mineral origin, which reduce the whitening on the skin.
BIO Olive oil
Obtained through cold pressing of the olive pulp, this is one of the richest oils in oleic acid (ω9). Anti-free radicals, emollient and nourishing, it prevents dehydration and the premature aging of the skin.
20% of natural origin, bio certified
Without chemical filters
Paraben-free. PEG-free. Allergen-free. Nanoparticle-free.
Allergen-free perfume
Non-tested on animals
Tested under dermatological control
Our favorite!
As you already know, EQ Love is our favorite from the summer box. A French brand with innovative products, committed to the optimization of natural resources and to the respect for the ocean… What else?
AQUA, DICAPRYLYL CARBONATE, TITANIUM DIOXIDE, GLYCERIN**, PRUNUS ARMENIACA KERNEL OIL*, POLYGLYCERYL-3 DIISOSTEARATE, CARTHAMUS TINCTORIUS SEED OIL*, CERA ALBA, COPERNICIA CERIFERA CERA*, POLYGLYCERYL-2 DIPOLYHYDROXYSTEARATE, OLEA EUROPAEA FRUIT OIL*, SODIUM CHLORIDE, ALUMINIUM HYDROXYDE, STEARIC ACID, BENZYL ALCOHOL, SILICA, JOJOBA ESTERS, PARFUM, TOCOPHEROL, DEHYDROACETIC ACID, MICA, CI 77491. *Ingrédients issus de l'Agriculture Biologique. **transformé à partir d'ingrédients biologiques. 99,20% des ingrédients sont d'origine naturelle. 14% des ingrédients sont issus de l'agriculture biologique. Cosmétique Ecologique et Biologique certifié par Ecocert Greenlife selon le référentiel Ecocert disponible sur http://cosmetiques.ecocert.com